Discover the value of Luxury Cruising
Tips and most drinks, if not all, are completely covered by your cruise fare. While you'll have to pay for that hour-long massage at the spa, you won't have to pay to take a Pilates or yoga class, or dine in any of the specialty restaurants. Most even include complimentary self service laundries. Some even offer a complimentary shore excursion on select sailings, where guests will receive a unique exclusive experience.
Luxury lines also offer complimentary shuttles from the ship to the center of town at all ports so you don't need to book a shore excursion or pay for a cab just to explore a destination on your own.
Unlike mainstream lines, where the least expensive cabin is often a small, inside cabin with no window, luxury cruises tout spacious, Oceanview cabins, occasionally suites, as their lowest-level cabin category.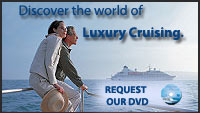 Stateroom amenities may include walk-in closets, televisions with VCRs or DVD players, bathrooms with showers and full-size tubs, designer bath products, Italian bed linens, personalized stationery, and fresh fruit and flowers. Instead of a tiny space you try to stay out of, you'll actually enjoy spending time in your cabin, perhaps having breakfast on your balcony or enjoying a cocktail from your mini-bar.
Luxury liners tend to be smaller and it makes a big difference to sail with hundreds, not thousands. You won't have to wait in long lines or worry about not finding an empty deck chair by the pool. Getting on and off the ship is often a lot smoother and quicker which means you will have more time in port because the cruise line doesn't need to factor in extra hours to get everyone back onboard.
So do the math and figure out how many bottles of water, Cokes, glasses of wine, and coffee you drink, how much you'd have to tip then add that to the cost of a mainstream cruise, then compare that price to that of a luxury cruise. The difference between the numbers might not be as big as you thought.
Given the increased comforts and services of a luxury cruise, you may decide that your dollars will work a little harder for you when you spend a few more of them on a five-star vacation.